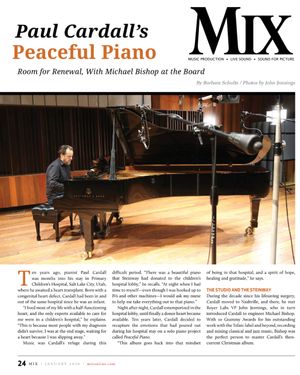 Room for Renewal, With Michael Bishop at the Board 
BY BARBARA SCHULTZ | MIX MAGAZINE JAN 2020
Ten years ago, pianist Paul Cardall was months into his stay in Primary Children's Hospital, Salt Lake City, Utah, where he awaited a heart transplant. Born with a congenital heart defect, Cardall had been in and out of the same hospital since he was an infant.
"I lived most of my life with a half-functioning heart, and the only experts available to care for me were in a children's hospital," he explains. "This is because most people with my diagnosis didn't survive. I was at the end stage, waiting for a heart because I was slipping away." 
Music was Cardall's refuge during this difficult period. "There was a beautiful piano that Steinway had donated to the children's hospital lobby," he recalls. "At night when I had time to myself—even though I was hooked up to IVs and other machines—I would ask my nurse to help me take everything out to that piano." 
Night after night, Cardall extemporized in the hospital lobby, until finally a donor heart became available. Ten years later, Cardall decided to recapture the emotions that had poured out during his hospital stay on a solo piano project called Peaceful Piano.